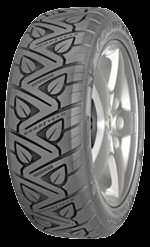 Goodyear has made a new concept tyre which is less dependent on oil-derived products, Another step forward in the fight to build a sustainable future.
Geneva, Switzerland – Goodyear was proud to announce that its forward-looking concept tyre made with BioIsoprene™ technology was recently awarded the prestigious "Environmental Achievement of the Year Award". The innovative tyre was presented for the first time to the automotive world at the Geneva Motor Show 2010.
The award winning concept tyre with BioIsoprene™ technology represents a breakthrough alternative to a petrochemically produced ingredient in the manufacture of synthetic rubber with renewable biomass. The tyres made with BioNatsyn™ polymer which is made from BioIsoprene™ product, are the result of a collaboration between Genencor, a division of Danisco, and Goodyear.
[divider] [divider]