When it comes to Motorhome tyres in Norwich, Norfolk Pure Tyre makes replacing them an easy experience as you don't even leave your home, one call and we will arrange your tyres for you and come and fit your tyres at a time that suits you.
We have the latest in mobile fitting equipment for tyres and Tyron band removal. we can supply and fit tyron bands to your motorhome.
Motor homes are becoming ever more popular because of the stability when driving in comparison to the Caravan, the other advantage is you are not limit to 60mph like a car and caravan combination. Models are now available with electric air conditioning making it temperature comfortable.
[message type="warning"]
SAFETY ADVICE
Because tyres deteriorate with age, the leisure vehicle organizations recommend that irrespective of the remaining tread pattern depth, tyres should be replaced preferably when they reach five years old but to never use tyres which are more than seven years old.
You can find the tyres age by looking in the side wall of the tyre for the tyres date code.
[/message]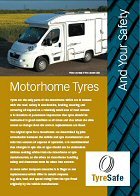 Motorhome Tyres and Your Safety (2749KB PDF)
Whatever the vehicle safe driving is extremely important and one major factor overlooked is the tyres. Look after the tyres properly and you will improve the safety and behaviour of your motorhome.
Click the image or the link above to open the informational document
What is a Tyron Band and how does it work?
A Tyron band is a circle of flat steel designed to fill the hole that the tyres falls into to make it possible to fit on the rim with out damaging the tyres bead
A Tyron band stops the tyre from falling in the well of the wheel which would give the tyre the ability to move and flex independently from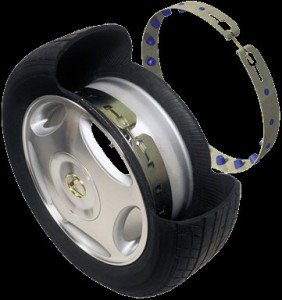 the wheel, if the wheel and tyre work independently when steering inputs were made the wheel would turn but the tyre would not respond.
When the Tyron bands are fitted they fill the well in the wheel making it impossible for the tyre to fall into it, leaving the tyre tight enough on the wheel to respond to steering inputs.
Pure Tyre can supply and fit Tyron bands in Norwich, Norfolk to your motorhome and best of all "we come to you" at fit them at your location.