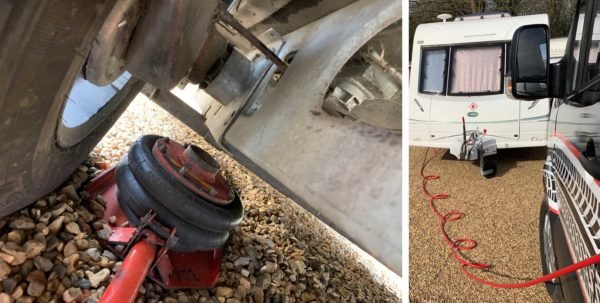 When it comes to caravan tyres in Norwich, Norfolk, Pure Tyre makes replacing them a breeze as you don't even leave your home, one call and we will arrange your tyres for you and come and fit your tyres at a time that suits you.
Our large footed pneumatic air jack lifts your caravan safely, even on grass or gravel.
We have the latest in mobile fitting equipment for tyres and Tyron band removal. we can supply and fit tyron bands to your caravan.
Safe driving when towing a caravan or trailer tent is very important and one major factor that is frequently overlooked, is the tyres. Look after your tyres properly and you will improve the safety and behavior of your car and caravan or trailer tent.
What is the best thing to do with the caravan tyres when they are not in use or through winter?
It is important to Check your tyres regularly especially when you caravan have been standing over winter or for long periods of time.
Caravans are not normally used during winter and its essential to thoroughly inspected your caravan tyres before to re-using them again. Look particularly for any sign of age deterioration in the tyres such as sidewall cracking (perishing) and any signs of the tyre being out of shape.
Tyres on a stationary vehicle, particularly if parked in coastal areas, always age more quickly than those in regular and frequent use.
If your caravan is going to stand for any length of time, it is wise to cover the tyres and to shield them from direct sunlight and if possible to jack the weight off the tyres, in fact the best thing it to is remove them altogether and stand the caravan on winter wheels then store the caravan wheels in your garage or in bags inside the caravan.
How old is the maximum age a Caravan tyre should be?
[message type="warning"]
SAFETY ADVICE
Because tyres deteriorate with age, the leisure vehicle organizations recommend that irrespective of the remaining tread pattern depth, tyres should be replaced preferably when they reach five years old but to never use tyres which are more than seven years old.
You can find the tyres age by looking in the side wall of the tyre for the tyres date code.
[/message]
More Safety information including a Caravan Tyre Pressure Setting Guide (PDF)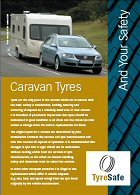 Caravan Tyres and Your Safety (1717KB PDF)
Tyres are the only parts of the caravan which are in contact with the road. It is therefore of paramount importance that tyres should be maintained in good condition at all times and that when the time comes to change them the correct replacements are fitted.
Click the image or the link above to open the informational document