The Day of the Nissan Qashqai, We don't see a Qashqai for weeks then two in one day and they are both white.
Although at first glance they look the same vehicle they actually have one big difference, one is a seven seater and the other is a five seater. The Qashqai + 2 is a seven seater slightly longer version of the Qashqai which means an increase of 3 psi of pressure to the rear tyres.
The first Qashqai + 2 had a repair to the inside of the tyre that I hadn't seen before (correct me if I'm wrong) I believe that as the tyre was a V rated (148mph) tyre that its to high of speed rating to have a repair of this type, with my limited knowledge of major repairs I think the wrong type of non reinforced patch had also been fitted and looks a lot larger then I have previously seen before.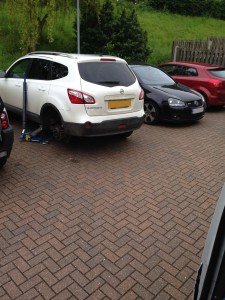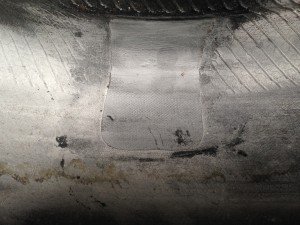 The second Qashqai had a nail in the edge of the tread of the tyre to close to the edge to perform a minor repair which we carry out on site, some tyres with certain speed ratings can be major repaired by sending them off to a company which takes about a week, this is a service we don't offer and with the increased speed ratings as standard on cars these days it would only be a very small amount of tyres that could be repaired in this way and with a week turn around what would the cars without a spare tyre do?